The most famous thoroughbred horse racing racecourse in North America, Churchill Downs racecourse is situated on Central Avenue in south Louisville, Kentucky and is home for some of the major horse racing events in North American horse racing social calendar. The race course is also one of the oldest racetracks in the US, erected in 1875 to host the first ever Kentucky Derby race.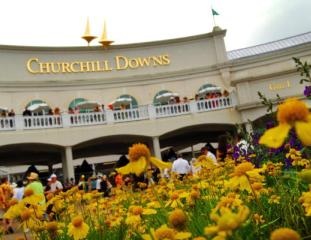 Churchill Downs History
The racecourse was established in 1875 by Col. Meriwether Lewis Clark, Jr. who sought to erect a race similar in features and conditions to the English Epsom Derby and the French Grand Prix de Paris (now known as the Prix de l'Arc de Triomphe) after visiting both events and realizing the potential this kind of race has in further developing North American thoroughbred racing. The Churchill Downs racetrack was built upon 80 acres leased to Clark by his relatives John and Henry Churchill which the racetrack is named after.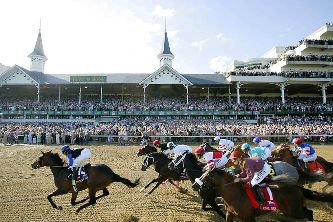 The first Kentucky Derby, which was also the first race to run at Churchill Downs, was the fruit of Clark's and his companion efforts but despite the first race being a major success, Churchill Downs stumbled upon financial and administrative difficulties and in 1894, the New Louisville Jockey Club stepped forward to raise capital and improve the racecourse's facilities. Though genuine efforts on behalf if the New Louisville Jockey Club, the track continued to floundered and failed to rise and become what Clark had in mind when he first came up with the initiative. It wasn't until 1902 when Col. Matt Winn took over Churchill Downs and set up a syndicate of businessmen that would finance, support, maintain and develop the racecourse. Churchill Downs prospered Under Winn's rule, and was set to become the most famous racetrack in the US.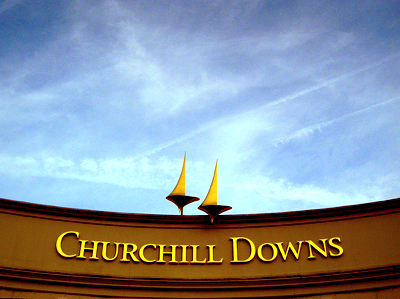 Churchill Downs Today
Churchill Downs is fully operational to this very day and hosts the Breeder's Cup and the Kentucky Oaks as well as the Kentucky Derby itself, the race that lead to the establishment of Churchill Downs. The course  and facilities of Churchill Downs stretch on 174 acres of land and can hold up to 50,000 racegoers, though numbers can go up to 150,000 in Derby days. The racecourse features the main 1 mile in circumference and 80 feet wide dirt track and a 7 furlong n circumference and 80 feet wide turf track, located inside the main track. The most famous feature of the Churchill Downs racecourse are the twin spires located atop the grandstand which were designed by Joseph Dominic Baldez and built in 1895. Ever since Parimutuel machine were introduced to the track in 1908 Kentucky Derby horse betting is has become one the popular activities surrounding the Kentucky Derby and one which adds up to this already exciting event.