Horse racing is one of the busiest sport disciplines in the world and in the world of racing sports in particular. It has been practiced for over ten centuries by the British which were the first to regulate the sport and set up different horse racing meetings as key events in the British social calendar. The origin of horse racing in the UK is the horse racing competition that were held by the roman soldiers who were stationed on British soil.

History of Horse Racing
The history of institutionalized horse racing originates in the UK, as Henry VIII imported a large number of stallions and mares for breeding, paving the way for the well known thoroughbreds bloodline. in 1605 King James, a prominent horse lover discovered Newmarket, a quiet little village associated with horses and horse racing from the days the Roman ruled over what will later on become Great Britain. King James set the little village as his main resting and recreational spot, and introduced the area with horse racing competitions. By the time Charles I acquired the throne, seasonal meetings were held annually and the first Gold Cup race was held in 1634.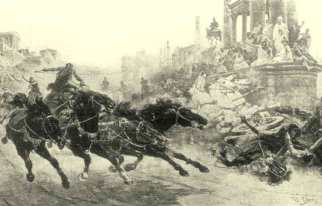 Though suffering a setback in development due to Oliver Cromwell's ban on horse racing imposed in 1654, after Charles II restored his crown in 1660, horse racing was declared legal again and was anchored in the rules written by Charles II himself over the Newmarket Town Plate issued in 1664. Ever since, horse racing continued to grow, with more and more races and fixtures established by the royal family and by other horse racing enthusiasts to fill up the British Racing Calendar and set the sport as one of Britain's favorite activities.  As former British colonies, the US, Australia, New-Zealand, South Africa, and Hong Kong held their own horse racing events and meetings, establishing an independent horse racing sport, one which held similar qualities to British Horse Racing but was nevertheless in its own Category.

Modern Horse Racing
Horse racing today holds three types of racing. Flat racing, Steeplechase and harness racing. Flat racing is racing over a flat racecourse, Steeplechase is hurdles or fences jumping race where the horses are required to handle jumping over obstacles and harness racing is a race in which the rider (Harness racing for jockey) sits in a harness pulled by  a horse, in a manner which resembles the roman military chariots. Horse racing is extremely popular in English oriented countries and in specific parts of western Europe. The only thing which comes near horse racing in popularity is horse racing betting, a recreational activity practiced by many around the world.
Major Events in World Wide Horse Racing
A small list of major horse racing events known for every horse racing fan and considered to be the horse racing world shaping events:
Breeder's Cup
Dubai World Cup
Melbourne Cup
British St. Leger